This month McLaren Labs releases rtpmidi version 0.5.0 for Ubuntu and Raspberry Pi. This release brings some great new features, and also provides a few performance and installation improvements.
More MIDI message types … including SysEx
McLaren Labs rtpmidi has always supported the following message types with full Journal capability for sending and receiving. (Note: The Journal is part of the error correction mechanism that recovers lost messages that occur when sent over a network.)
Note On, Note Off
Control Change
Program Change
Pitchwheel
System Reset
With this release, we also add the following to provide a complete set of MIDI message types including System Exclusive.
System Exclusive
Poly Pressure
Aftertouch
Clock
Start, Continue, Stop
Active Sensing
Tune Request
Song Select
Song Position
Quarter Frame
System Exclusive has been a "most-asked-for" feature. We are happy to finally offer it. With System Exclusive, it is now possible for Show Control software to send MSC (MIDI Show Control) messages over Ethernet or WiFi!
Direct Call
A few of our users have asked for the ability to initiate a connection to a Network MIDI session on a computer by its hostname or IP Address. This capability is useful for Network MIDI devices that do not advertise their address via Bonjour. Arduino's AppleMIDI-Library is one great example.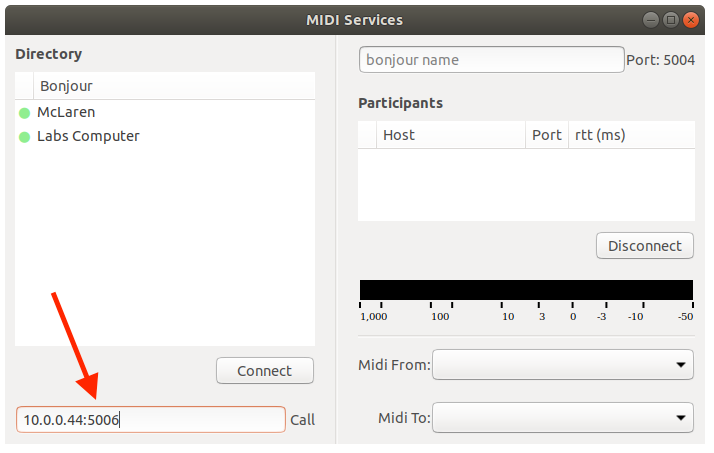 Notice the field labeled "Call" on the bottom left of the control panel. This is where you enter the hostname (or IP address) and port of the remote session you want to connect to. Use the following format.
hostname:port
To launch the connecting process, press <RET> after you enter the host:port.
McLaren Labs rtpmidi will initiate a MIDI session with that host.
Clean Ups
And there are a couple of things we cleaned up. There is a new Error dialog. The displayed session name is now more intelligently computed based on the session name given by the remote host. The name of the MIDI port is now 'rtpmidi' (it used to be '_port_', which didn't make much sense).
Summary
With this release we're rounding out the features of McLaren Labs' rtpmidi to make it more compatible with other implementations of the RTP-MIDI standard. The addition of System Exclusive message types (including MSC – MIDI Show Control), users of Show Control applications on Mac and Windows will be able to control lighting and devices on Ubuntu and Raspberry Pi computers.
See Also