RTPMIDI Installation and User Guide
Download the .deb debian installation file on your computer. If you are using Ubuntu desktop, you can double-click on the .deb file and it will install the program in /opt/rtpmidi.... To install via the command line, use dpkg.

$ sudo dpkg -i rtpmidi_0.1.1_amd64.deb
    
This should unpack the executable and its resources. Check that the executable is found.

$ ls /opt/rtpmidi_0.1.1/bin
-rwxr-xr-x 1 root root 1987960 Jan 18 09:32 rtpmidi
    
You can verify the signature of the package with the `dpkg-sig` command.

$ dpkg-sig --verify release/rtpmidi_0.1.1_amd64.deb 
    
To launch the program, use the absolute path name of the executable. (Note: do not move the executable from this location as it looks for resources in the /opt/rtpmidi... directory.)

$ /opt/rtpmidi_0.1.1/bin/rtpmidi &
    
Connect to another computer
The Left Panel labeled "Directory" shows the list of computers on your network advertising apple-midi services. A computer announces its availability on the network using Zero-Conf networking (also known as "Bonjour"). A green circle ● indicates a remote MIDI connection that is available.
To launch a connection, first click on the computer name you want to connect to. Then click on the [Connect] Button on the bottom-left to set up a networking session between your computer and the selected remote.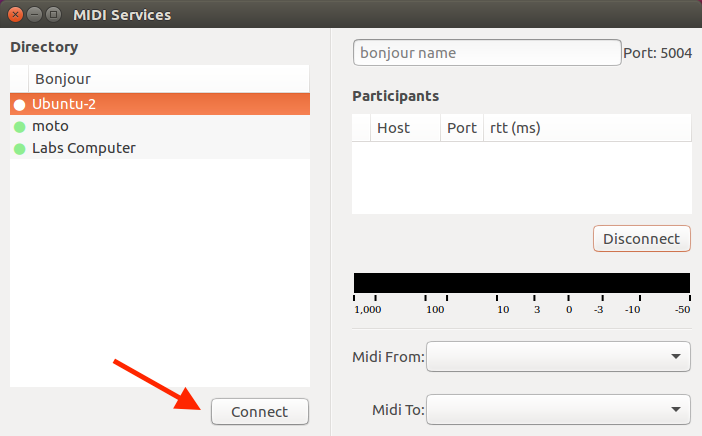 Once selected, the remote host name will appear in the Right Panel under the list of "Participants." As the networking session negotiation proceeds, the circle next to the computer name will change. A green circle ● indicates a Participant that is fully connected.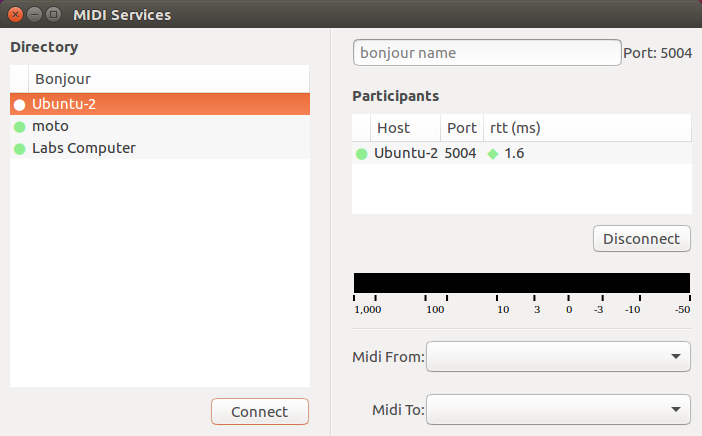 Disconnect a participant
To disconnect a participant, first select the participant from the Right Panel, then click the [Disconnect] button.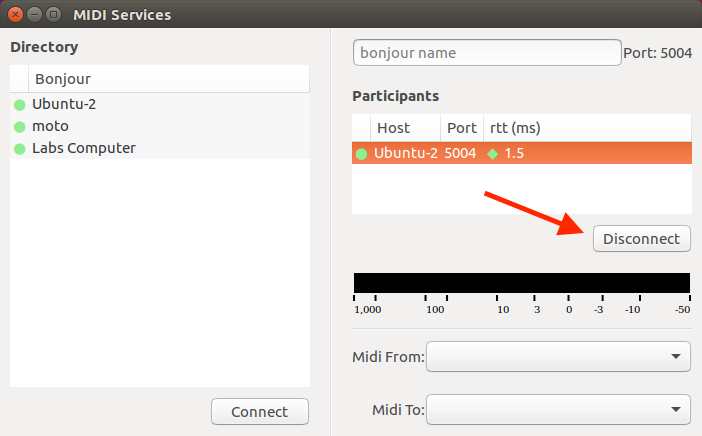 Set your bonjour name
The "Bonjour Name" is the name advertised on your network to nearby computers. If you do not give a "Bonjour Name", your computer will not be announced to other computers. To fill in this value, enter the name of your computer in the Bonjour Name field and press your <Return> key.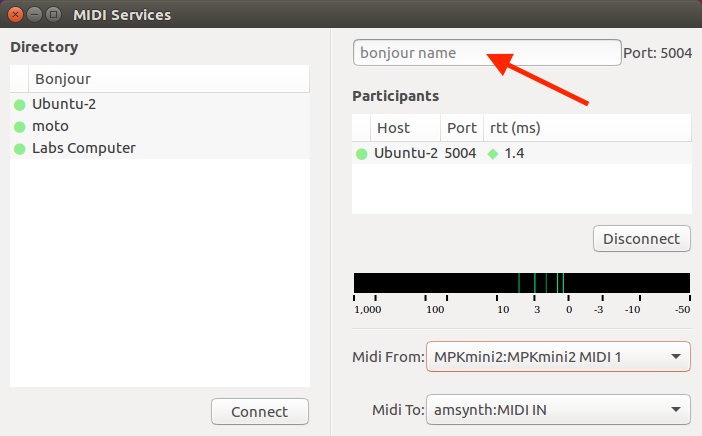 Select a MIDI Input
You can select a MIDI source connected to your computer (such as a USB MIDI Keyboard) directly from rtpmidi. The MIDI information from that keyboard will be sent to every participant. The pop-up menu will display a list of known MIDI sources. Choose your keyboard from the list. The example below shows how to select an Akai MPK-Mini2 keyboard as a MIDI From source.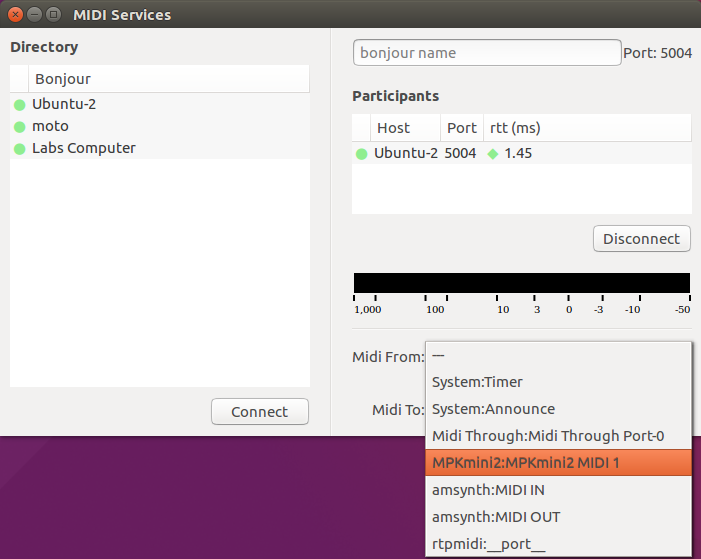 Select a MIDI Output
You can select a MIDI desination for MIDI information received from the participants. The pop-up menu will display a list of known MIDI destinations. The example below show how to select the amsynth Linux Synthesizer as a destination for MIDI notes received over the network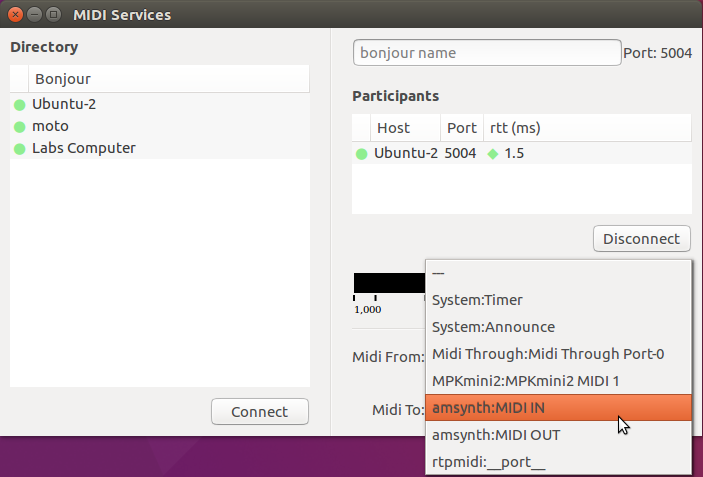 Monitor Latency
The Latency Panel indicates (in milliseconds) of each arriving note. Lower and more uniform latency is to be preferred, and you will usually get better results using Ethernet instead of Wi-Fi.